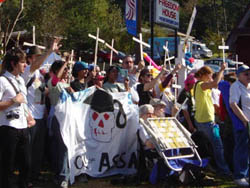 Go to the SOAW national store


https://org.salsalabs.com/o/727/t/10656/shop/shop.jsp?storefront_KEY=777
Download this Public Service Announcement and post it on your own website to help us spread the word about the SOA and close this terrorist training school. It's free and easy! Contact us to receive VHS, Betacam copies.
Download this PowerPoint presentation and use it when you need to explain the SOA and SOA Watch to others. It is free and you may modify to suit your local SOA Watch group. It includes the WindowsMediaVideo version of our PSA.
Resources

There are tons of great resources to educate, motivate and support work to close the SOA. Some of these resources are free and downloadable on this site. Others, such as books, publications, videos and other merchandise can be ordered from the SOAW national store


Crossing the Line - On November 22, 1998, over 7,000 students, church people, former military and activists met outside the gates of Ft. Benning, Georgia, where the U.S. Army School of the Americas is located, in the largest protest since the Vietnam War days. Led by actor Martin Sheen and Sister Jackie Doepker, 2,318 of them risked arrest and imprisonment by "Crossing the Line" onto the military base. Carrying coffins and crosses bearing the names of thousands of men, women and children assassinated by SOA graduates in Latin America, they demanded that the U.S. government end its policy of training foreign soldiers and close the SOA's doors forever. This video documents this nonviolent protest with interviews of the participants and dramatic scenes of the march.

Hidden in Plain Sight - This 71 min documentary presents different points of view which illuminate the turbulent reality of Latin America, demystify the policy-making process and shed light on some of the most complex and urgent problems facing us today. Enter noted scholars Noam Chomsky, Eduardo Galeano, Christopher Hitchens, and Michael Parenti, who broaden the debate about the SOA/WHISC to include such subjects as militarism, corporate globalization, national security, and international terrorism. Personal accounts from victims of the violence and repression in Latin America raise questions and concerns about the nature and consequences of U.S. policy in Latin America.

School of the Americas: An Insider Speaks Out - Recipient of "LASA '98 Award of Merit in Film" and 1998 Winner of the PBS "Independent Images" Competition. From his insider view, former SOA instructor Major Joseph Blair reveals shocking new information and gives compelling reasons why the SOA must be closed. Hear and see the vivid reality and consequences of the training at the SOA in rarely seen footage from Latin America, as well as footage of the arrests of SOA protestors at Ft. Benning (16 min. video)

The New Patriots - U.S. Military veterans speak out about terrorism, patriotism and their opposition to the U.S. Army School of the Americas (SOA)-now the Western Hemisphere Institute for Security Cooperation (WHISC) -where Latin American soldiers are trained in counter-insurgency techniques aimed at terrorizing civilian populations. The lives of tens of thousands of people killed by these soldiers are considered no less precious than the thousands who lost their lives in the U.S. on 9/11/01
PSA - Download this public service announcement and post it on your own website to help us spread the word about the SOA and close this terrorist training school. It's free and easy! Contact us for free VHS, Betacam copies.



PowerPoint Presentation This was developed in Austin for presentations to groups requesting information about the SOA, SOA Watch and the November Vigil. You will need PowerPoint to use it. The self extracting file contains the presentation (.ppt) and the psa (.wmv). The version I use also contains Anne Feeney's song Have You Been to Jail for Justice. I removed that since I did not have her permission to post it. You can add music of your own if you desire. It is easy. If you do not have PowerPoint download the web page version and open it in a web browser.